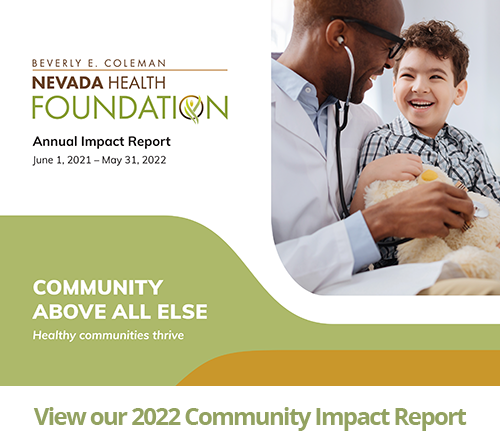 Beverly E. Coleman
Nevada Health Foundation

Northern Nevada
3325 Research Way
Carson City, NV 89706
Southern Nevada
1799 Mount Mariah
Las Vegas, NV 89106
Applause newsletters
Annual reports
Renovating our Elko Family Medical & Dental Center
THE PROJECT
Elko Family Medical & Dental Center (EFMDC), located at 762 14th Street, is currently housed in a 50+year-old building with significant infrastructure maintenance, upgrade and replacement needs. The planned renovation and expansion will increase healthcare access and allow EFMDC to enhance services for individuals and families in and around Elko.
RENOVATION PROJECT ADVISORY COMMITTEE
Delmo Andreozzi, Elko County Commissioner
Demar Dahl, Elko County Commissioner
Cathy McAdoo, NSHE Board of Regents
Gerald J. Ackerman, Assistant Dean, Rural Programs, UNR Med
Kerry Aguirre, President, Elko Sunrise Rotary Club
Kevin Melcher, Retired – K-12 Education; Former Regent, NSHE
James M. Copenhaver, President, EJC Foundation
WHO WILL BENEFIT
This project will benefit children, adults, seniors and veterans by modernizing our facility and opening approximately 4,000 appointment slots annually.
HOW CAN YOU HELP
The Nevada Health Foundation, a not-for-profit 501(c)(3) fundraising entity created to support Nevada Health Centers, is seeking donors interested in funding this important construction project.
If you are interested in contributing, please call 775.445.3505.