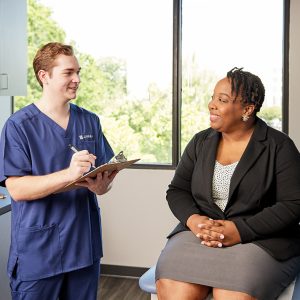 Clinical trials at Nevada Health Centers
The future of healthcare, in your hands
In close partnership with Javara, we will soon offer clinical trials for a range of health issues and conditions. We hope you'll consider joining us in these important studies when they become available. With your help, we can find solutions to our most pressing medical challenges and ensure that healthcare is working effectively and equitably for all.
We will have a variety of studies available. If you are interested in participating in a future clinical trial, please click here to find one near you. You may be compensated for your time and travel.
Why should I participate in clinical research?
Clinical research can benefit you in the near-term, as well as help others in the future. By participating in clinical trials, you receive highly attentive care, including diagnostic assessments that may not otherwise be available. Your cost of care can be offset, and your treatment could potentially lead to improved health outcomes.
Results from clinical trials help determine if a medicine or medical device is ready to go to market, or if it needs more testing. As a patient, you have an opportunity to contribute to medical advancements simply by participating in clinical research.
Where can I find more information?
For additional information about clinical trials — including frequently asked questions, patient testimonials, and more — please click here.