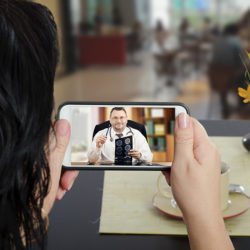 Virtual Appointments
See a provider via an internet-connected device
We may be able to evaluate you from your internet-connected smartphone, tablet or computer. Medical and behavioral health appointments are available.
Virtual appointment hours
7:30 a.m. to 4:30 p.m.
Monday – Friday
Requirements for a virtual visit:
Internet-connected mobile phone, tablet or laptop/desktop computer with video and audio capabilities
Strong WiFi or cellular connection
Chrome or Firefox browser
Most modern devices meet our connectivity requirements; however, individual circumstances and signal strength may vary. In some cases, technology limitations may limit or degrade our ability to connect with you, but we will do our best to make sure your experience is the best it can be.
What a virtual care visit looks like:
School-Based Telehealth Appointments
With a parent or guardian's permission, school nurses can use videoconferencing technology and diagnostic tools like a stethoscope and otoscope to connect students to a Nevada Health Centers provider from their school.
Children can be diagnosed and have prescriptions sent to a pharmacy of choice without having to leave school. Parents or guardians can provide advanced consent or join the visit from work or home, via the same videoconferencing technology.
Benefits of school-based virtual care:
Decreased absenteeism due to illness
Facilitate management of chronic diseases
Promote classroom success by keeping kids healthy
Convenient for working families
Telehealth Appointments from Our Health Centers
Don't have the right technology for a virtual care appointment from home? All NVHC Health Centers are equipped with telehealth technology and trained medical assistants who can connect you to a provider at a different location.