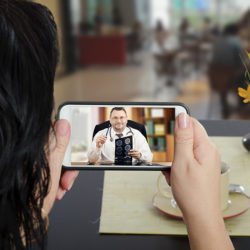 Telehealth Services
3325 Research Way
Carson City, NV 89706

Office
775.888.6611
Fax
775.313.9715
E-mail
telehealth@nvhealthcenters.org
NVHC Virtual Care – See a Provider from Home
We may be able to evaluate you from your Internet-connected smartphone, tablet or computer. Medical, behavioral health, and emergency dental appointments are available.
Virtual Care Hours
7:30 a.m. to 4:30 p.m.
Monday – Friday
To qualify for a virtual visit:
You must have an Internet-connected smartphone, tablet, or computer with video and audio capability. Some restrictions or limitations may apply.
If you meet the qualifications above, please click the "Schedule a virtual visit" button below:
What a virtual care visit looks like:
General system requirements
You must have a video/audio-capable mobile phone, tablet or laptop/desktop computer with a strong WiFi or cellular connection. Chrome or Firefox browsers are required. Most modern devices meet our connectivity requirements; however, individual circumstances and signal strength may vary. In some cases, technology limitations may limit or degrade our ability to connect with you, but we will do our best to make sure your experience is the best it can be.
Schedule a virtual medical or behavioral health visit