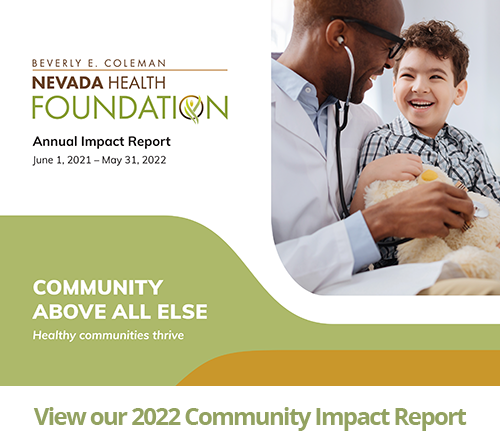 Beverly E. Coleman
Nevada Health Foundation

Northern Nevada
3325 Research Way
Carson City, NV 89706
Southern Nevada
1799 Mount Mariah
Las Vegas, NV 89106
Applause newsletters
Annual reports
Expanding our Sierra Nevada Health Center
THE PROJECT
Generations of families call the Carson City area home, and all residents deserve a community-based healthcare partner that provides quality, compassionate care for young and old alike, from newborns to adolescents, to retirees and to those who have dutifully served our country.
Great care is already available at the Sierra Nevada Health Center, but the need in our community is growing and we need your support to help us meet today's healthcare needs — and tomorrow's demands.
WHY ARE WE EXPANDING? 
We have outgrown our current facility and are in need of more space and improved design to meet the needs of our patients and community.
There are persistent health inequities in our community, including limited access to Medicaid and Medicare providers, low-cost dental care, pharmacy and other specialty care services.
The COVID-19 pandemic brings new urgency to our expansion campaign and the need for a more equitable system of care, one that continues to embrace new resources, technologies and clinical talent to help everyone thrive.
WHAT SERVICES ARE WE ADDING?
Expanding our existing on-site pharmacy
Adding new adult and pediatric dental services
Adding podiatry services for those living with diabetes
Expanding our telehealth services
HOW YOU CAN HELP
The Nevada Health Foundation, a not-for-profit 501(c)(3) fundraising entity created to support Nevada Health Centers, is seeking donors interested in funding this important construction project.
If you are interested in contributing, please call 775.445.3505.