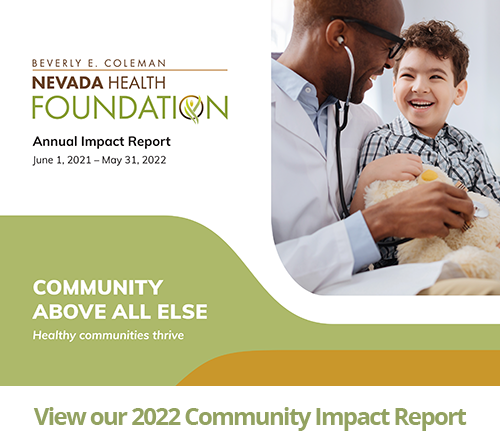 Beverly E. Coleman
Nevada Health Foundation

Northern Nevada
3325 Research Way
Carson City, NV 89706
Southern Nevada
1799 Mount Mariah
Las Vegas, NV 89106
Applause newsletters
Annual reports
Beverly E. Coleman Nevada Health Foundation

The Beverly E. Coleman Nevada Health Foundation (NHF) is a non-profit 501(c)(3) organization, under the operational umbrella of Nevada Health Centers, with the primary purpose of raising funds to help advance Nevada Health Centers' mission to provide quality healthcare in communities throughout Nevada.
Every day, thousands of Nevadans face barriers to healthcare. Among them are lack of insurance, high cost, too few providers, and lack of culturally competent care. In 2020, the pandemic brought these barriers further into focus, shining a light on the long-standing and systemic inequities of our healthcare system.
Nevada Health Centers and the Beverly E. Coleman Nevada Health Foundation work to address and eliminate these barriers to ensure all Nevadans havethe opportunity to be as healthy as possible.
Each year, we care for more than 50,000 Nevadans, promoting health and hope through a variety of clinical services that include family medicine, pediatrics, dentistry, behavioral health, and pharmacy. As we look to the future, we envision a more equitable system of care — one that continues to embrace the latest resources, technologies, and clinical talent to help all Nevadans prosper and thrive.
Foundation Board of Trustees
Walter B. Davis, Ex-Officio
Kelly LeGrow, Board Chair
Gerald Ackerman
Kathy Triplett, Treasurer/Director
Cheri Glockner, Secretary