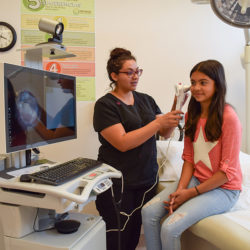 Telehealth Services
3325 Research Way
Carson City, NV 89706

Office
775.888.6611
Fax
775.313.9715
E-mail
telehealth@nvhealthcenters.org
Telehealth
Telehealth offers a convenient way to access healthcare through the use of secure video and audio connections to providers throughout Nevada.
Coming in mid-January 2020!
For minor health concerns that don't require urgent or emergency care, you can see a provider from the comfort of your home, using your Internet-connected smartphone, tablet, or laptop.
For a flat fee of $49, you can discuss your concerns with a licensed medical professional who will evaluate your symptoms, provide a diagnosis, and write a prescription (if warranted) that can be sent directly to your pharmacy.
System requirements
Smartphone no more than three years old
iPad no older than third generation
Laptop with at least Core-2 duo processor and 4GB or more of RAM
Up-to-date operating system no older than Windows 10 (PC) or Mac OS X 10.9
Chrome or Firefox browser required
Camera, speaker and microphone required when connecting with a laptop
3Mbps WiFi connection or 4G cellular connection preferred


Accessing telehealth at one of our health centers is easy. One of our medical assistants will be with you during your visit, and you will be connected to a provider through videoconferencing technology. The medical assistant will manage the equipment and the diagnostic tools, like a stethoscope to hear your heart and an otoscope to see in your ears. He or she will also assist the provider with your physical examination.
The provider will make recommendations for your care, order prescriptions if necessary, and make referrals for specialty care if needed. Your primary care provider will be notified that you were seen by our telehealth provider and can help manage your condition and review any prescriptions, referrals, or orders that were made.
With a parent or guardian's permission, school nurses can use videoconferencing technology and diagnostic tools like a stethoscope and otoscope to connect children from their school to a Nevada Health Centers' provider. Children can be diagnosed and have prescriptions sent to a pharmacy of choice — without having to leave school. Parents or guardians can provide advanced consent or join the visit from work or home, via the same videoconferencing technology.
There are many benefits to school-based telehealth services:
Decreased absenteeism due to illness
Can help facilitate the management of chronic diseases
Promotes classroom success by keeping kids healthy
School nurses please click here
Clinic-based telehealth services are offered at: